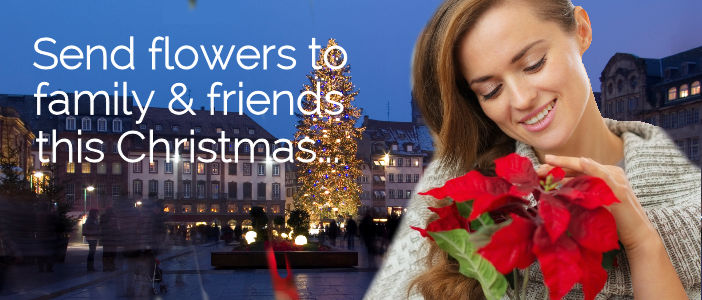 Celebrate Christmas with festive flowers from local florists.
Flowers are a great way to decorate and make the home festive with garlands and table centres. Flowers also make a great gift to send to friends and family at Christmas time. Sending flowers overseas at Christmas time is a speciality of Direct2florist, with our network of international florists we are confident we can provide unrivalled service when it comes to arranging a special delivery to the four corners of the globe from a local florist.

Decorate the dining table with a table centre

A customer favourite here at Direct2florist is the classic table centre in festive reds and greens and with a candle in the middle. These table centres make a great addition to any dining table at Christmas time, and they are a great way to send your festive wishes at this special time of year if you cannot be there in person.

International flower delivery at Christmas

Ordering flowers at Christmas time from overseas is made easy and reliable by Direct2florist. Choose your country, search by city or zip and view the closest florists - you can see each florists own flower pictures and if you wish to proceed you can order directly from them, right here from Direct2florist. Simple and effective flower delivery!